HandBrake is famous as open source DVD ripper and video converter for Mac and Windows. It supports converting any DVD-like source such as VIDEO_TS folders, .VOB, .TS files, and real DVD to MP4 and MKV. However, a plenty of DVD movies at present are protected by various types of encryption including CSS , Sony ARccOS, Region protection, UOP, APS, etc, which are not supported internally by Handbrake and must be handled externally with third-party software VLC.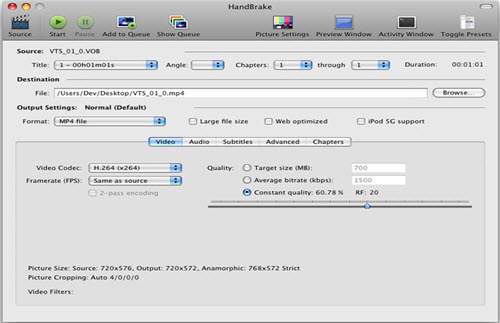 MacX DVD Ripper Free Edition, working as an alternative to Handbrake, delivers exceptional results. This free Mac DVD ripper enables you to free convert any type of DVD on Mac OS through a simple-to-understand GUI, producing any popular video formats MP4, MOV, FLV, iTunes, MP3, etc for playback on Mac or portable devices iPhone iPad, uploading to video sharing site YouTube, watching on iTunes, or saving as iPhone ringtone. The ability of snapshot will bring you high quality images from DVD movies to set as your wallpaper.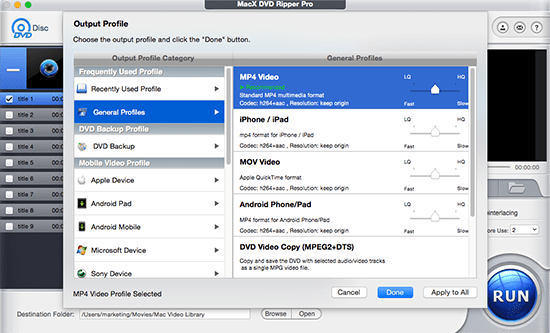 Comparison between Handbrake and MacX DVD Ripper Free Edition
HandBrake needs you to take advantage of VLC's ability to skirt DVD copy-protection schemes when ripping commercial DVDs with Handbrake. MacX DVD Ripper Free Edition supports ripping all encrypted or copy-protected DVDs for free, such as Sony ArccOS, CSS encryption, region protection, UOPs, APS, etc, without any third party software.
Handbrake can't read Disney 99 titles encrypted DVD
Disney new released DVD has 99 titles and the DVD movie size is more than 40 GB, Handbrake will crash when it launches to scan this kind of DVD disc. However, this Handbrake alternative for Mac has the ability to access all types of encrypted DVD including the new Disney encrypted DVD and choose the correct title to rip DVD free automatically.
Copy DVD to USB, Mac computer with original quality
The advanced edition of MacX DVD Ripper Free Edition, MacX DVD Ripper Pro gives you a choice to backup DVD to single MPEG-2 file for Mac users with original video and original 5.1-channles AC3/DTS Dolby audio. This new DVD backup feature is very useful when you backup and copy DVD to USB disk driver and plug the USB driver to PS3, Xbox or some modern TV set which can play videos from USB interface directly. Obviously Handbrake does not support this DVD backup feature.
Although the latest version HandBrake 0.9.4 is speedier than previous versions, offering a speed boost of up to 10 percent. MacX DVD Ripper Free Edition delivers much faster speed than Handbrake. HandBrake encoded the 1-hour, 59-minute DVD movies in 65 minutes, MacX DVD Ripper Free Edition took 28 minutes to do the same job. No mention the speed of copy features, it only took 18 minutes.
Handbrake has some bugs in analyzing DVD navigate instructions
Handbrake often gives the user some incorrect title number, but the main title is not shown in the title list. So, you can't use Handbrake to rip DVD smoothly, that's because the HB uses the open source code libdvdread and libdvdnav. While the handbrake dvd ripper for Mac alternative acts as a real DVD Player, and has no problem reading and analyzing DVD navigate instructions.
Output Video and Audio format Support
Handbrake only rips DVD to MPEG-4 and H.264 video such as iPhone iPod. MacX DVD Ripper can rip DVD to 12+ different video formats, support ripping DVD to iPhone 5, iPhone 4, iPhone 3GS, iPad, iPod touch and iPod, MP4, MOV, FLV, MPEG, MP3, etc on Mac OS. Handbrake has about 8 profiles built-in, most related to Apple iPhone and iPod. MacX DVD Ripper is built in aoubt 50+ profiles. In other word, this Handbrake Mac alternative meets all your needs.
Related Article
Ultimate Handbrake Alternative for Mac OS X (Mountain Lion Included)
Are you seeking for a Handbrake alternative for Mac OS? Never mind, this tutorial will show you an alternative to handbrake to rip DVD on Mac, even Mountain Lion, with original quality preserved.
Top Three Free DVD Ripper for Mac
Seeking for free Mac DVD ripper? Here is a list of the top three free DVD ripper for Mac including MacX DVD Ripper, Mac the Ripper and Handbrake to rip DVD on Mac OS to MP4, MOV, FLV, MPEG, H.264, iTunes videos, etc for your iPhone, iPod, iPad. Rip DVD for free with best free DVD ripper for Mac.
Best DVD Ripper for Mac Reviews
Do you want to get the best DVD converter for Mac? Stay on the page, Mac DVD ripper reviews compare four highly acclaimed DVD ripping software working under Mac OS X, helping you easily decide which one is the best DVD ripper for Mac and works best for you.